Regular price
Sale price
£19.99 GBP
Unit price
per
Sale
Sold out
The Nokia 105 (2019) Dual SIM (Blue) is a reliable and affordable mobile phone designed for essential communication. Here's a comprehensive description of this device:
Design and Build: The Nokia 105 features a classic and durable design in timeless blue. It is compact, lightweight, and built to withstand everyday use, making it an ideal choice for those seeking a basic and sturdy phone.
Display: The phone comes with a 1.77-inch TFT display that provides clear and easy-to-read text and numbers. The simple display ensures that you can navigate menus and dial numbers effortlessly.
Battery Life: One of the standout features of the Nokia 105 is its impressive battery life. With its 800mAh battery, the phone can provide extended standby time and talk time on a single charge, making it perfect for long-lasting use.
Communication Features: The Nokia 105 supports dual SIM cards, allowing you to use two phone numbers on a single device. It offers basic call and text messaging functionality, ensuring you can stay connected with friends and family.
Entertainment: The phone includes a built-in FM radio, allowing you to listen to your favorite stations and enjoy music on the go. It also comes with preloaded games to keep you entertained during your downtime.
Durability: Nokia is known for its durable phones, and the Nokia 105 is no exception. It is built to last and can withstand everyday wear and tear.
Ease of Use: The Nokia 105 is designed to be user-friendly, with a straightforward interface that is easy to navigate. The large buttons and simple menu make it accessible for users of all ages.
Storage: While the phone doesn't offer extensive storage capabilities, it provides enough space for storing contacts and messages.
In conclusion, the Nokia 105 (2019) Dual SIM (Blue) is a basic and reliable mobile phone that excels in essential communication. Its durable build, extended battery life, and user-friendly design make it an excellent choice for those who need a dependable device for calls and texts without the complexity of smartphones.
Share
View full details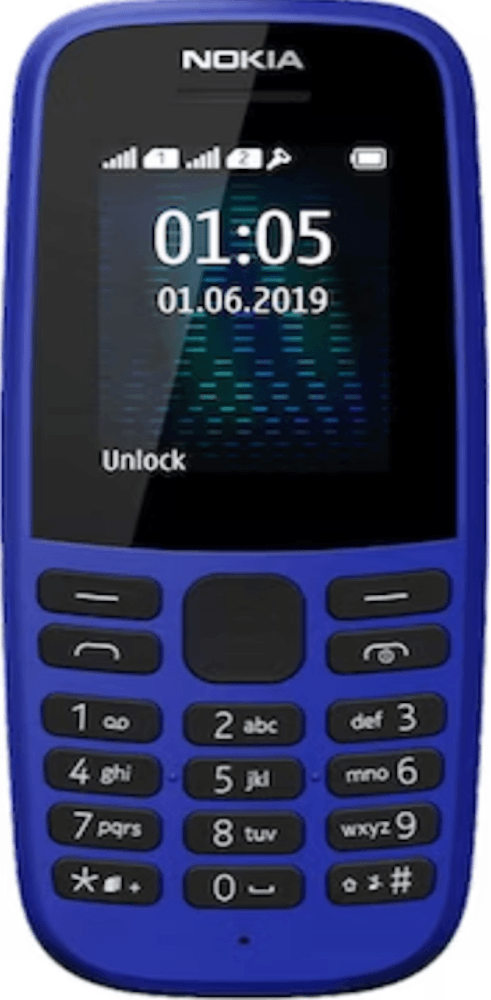 Choosing a selection results in a full page refresh.
Opens in a new window.